The high and low-level controller can be used in conjunction with the non-contact liquid level sensor, and can also be used with other liquid level sensors, such as float ball.
When the liquid level is too low, the liquid level sensor sends out the low-level alarm signal, and the pump starts automatically and adds liquid level. On the contrary, the pump stops automatically when the liquid level is too high. In this way, the function of automatic control of the liquid level of the container is realized.
1>. Strong compatibility, can be used in conjunction with a variety of liquid level sensor
2>. Strong protection, with waterproof pump idling protection and water level overflow detection output, with 4 hours overtime pumping alarm
3>. Relay dry node output, can be applied to a variety of load control
4>. Control of diversification, manual or automatic mode control of water pump
5>. The installation is simple and convenient, the screw can be positioned and installed, and the electric box track can also be installed
Function:
1>. Water level automatic control: water level is lower than the low position induction probe, automatically start the pump, the water level rises to high level, and automatically closes the pump
 2>. Idling delay pump: after starting, if the water supply pipe is detected without water, then delay 3-5 minutes to close the pump. During the pumping process, if the water flow stopped for more than 3 seconds, the pump was closed immediately
 3>. Automatic tracking water source: after idling pump stop, start pumping once every two hours, until the water is full, pump stops
 4>. Manual automatic switching: press K1 button to switch mode of work, red light to automatic mode, kill mode is manual mode
 5>. Non contact inductive probe: durable probe, strong anti-interference ability, sensitive induction, no contact with liquid, corrosion resistance, safety, environmental protection and no pollution.
Application: Suitable for controlling radiotube, water pumps, etc, as it can achieve the automatic control of high and low water level as well as keep level stable. 
Specification:
Type: Liquid Level Controller
Package Size: 19 x 11 x 5cm(7.48 x 4.33 x 21.65in)
Electricity Parameters:
Input Voltage: AV100V-220V,50/60Hz
Static consumption current<=20mA
Load Power: <1.6KW(Installation of AC contactor is needed for overloading or 3-phase pumps)
Alarm Output: 800W (Resistive Load) Frequent On/Off Output
Interface Voltage: DC 12V
Working Temperature: -10 – 75℃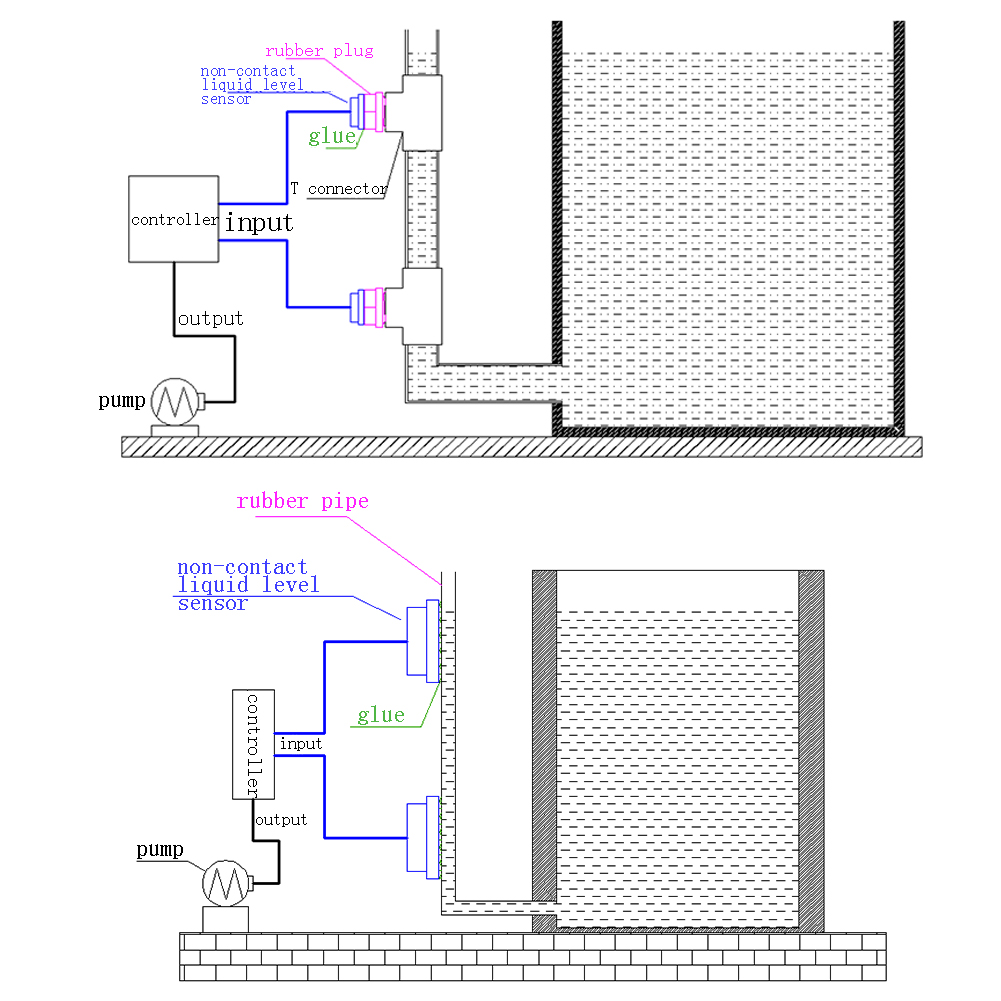 Note:
1. Please allow 0-1cm error due to manual measurement. pls make sure you do not mind before you bid.
2. Due to the difference between different monitors, the picture may not reflect the actual color of the item. Thank you!
Package includes:
1 x Liquid Level Controller