Features:
BALANCING FUNCTION: This battery protection module has a equilibrium function to keep each cell in balance and can extend the service life of battery.
MULTIFUNCTIONAL: This battery protection board will protect battery pack from overcharging, over-discharging over-current and short circuit, very useful.
PORTABLE: This battery protection board is very portable, great for DIY work.
FOR 4 SERIES 12V LiFePO4 BATTERIES: Used for 4 series 12V LiFePO4 batteries, 5P-250mm wires included for your convenient use.
WIDE APPLICATIONS: Suit for home DIY work and school science project, wide used in battery protection work.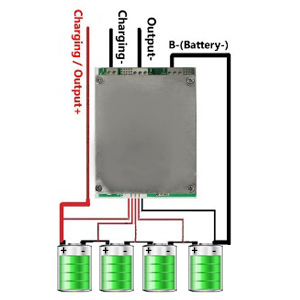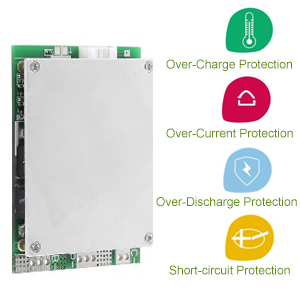 Specifications:
Continuous Discharge Current: 100(MAX)A
Instantaneous Discharge Current: 150A
Charging Voltage: 15V
Charging Current: 10(MAX)A
Overcharge Detection Voltage: 3.75±0.05V
Overcharge Protection Delay: 0.5S
Overcharge Protectionrelease: 3.65±0.1V
Balance Detection Voltage: 3.60±0.05V
Balance Release Voltage: 3.60±0.05V
Balance Current: 36±5mA
Over-discharge Detection Voltage: 2.0±0.1V
Over-discharge Detection Delay: 0.1S
Over-discharge Release Voltage: 2.25±0.1V
Overcurrent Detection Voltage: 150mV
Overcurrent Detection Delay: 9mS
Overcurrent Protection Current: 200±10A
Overcurrent Release Condition: Cut Load
Short Circuit Protection Condition: Load Short Circuit
Short Circuit Detection Delay: 250 uS
Protection Release Condition: Cut Load
Main Circuit Conduction Internal Resistance: ≤25mΩ
Working Current: ≤20uA
Sleeping Current(Battery Over-discharge): ≤10uA
Working Temperature Range: -30/+80 ℃
Package Includes:
1 x Protection Board
1 x Cable